Internship Program
An internship at Greenwood provides the opportunity to gain hands-on experience working with many different wildlife species. Interns will learn skills such as handling techniques, cleaning and sterilization procedures, habitat enrichment, diets, food preparation, and feeding methods.
Our internships are intended to provide nursing experience and on-the-job training in basic rehab skills, not to teach veterinary medicine.
Expectations
As an intern at Greenwood, you will be expected to work hard and get your hands dirty! There is a lot to learn from our wild patients through daily feeding and cleaning activities, but we need people who are really willing to take the initiative, learn, and get messy in the process.
There is no 'cuddle time' with these animals. Our primary objective is to return them to their natural, wild habitat once they are rehabilitated. We are an animal rehabilitation center first and foremost—and our patients and facilities must be treated as such.
We hope a working internship will help interns to examine wildlife career opportunities. In return, we expect to work with enthusiastic, mature, hard-working people who will become an integral part of the working staff at Greenwood during their internship.
Greenwood is a nonprofit organization and prides itself on offering an extensive and robust internship that provides lifelong experience and unforgettable memories.
This internship is unpaid. Ask your college program advisor if you could intern at Greenwood for school credits! Contact your county's Workforce Career Center to inquire about eligibility-based funding opportunities for this internship.
Recommended Qualifications
Previous experience in animal care—whether with wildlife or domesticated animals—is not required. Degrees (or degrees in progress) in the natural sciences, wildlife management, veterinary medicine, veterinary technician, or environmental education are welcomed, but we consider interns from all backgrounds. We believe that an interest in wildlife, a strong work ethic, and a willingness to learn is more important.
Requirements
You must be 17 years old to apply
Must be proficient in English
Provide proof of up-to-date tetanus vaccination
Up-to-date pre-exposure rabies vaccination is required to work with rabies vector species*
Minimum 20 hrs. per week for the full length of the internship
Shifts are 7am-12pm, 12pm-5pm and 5pm-11pm
5 to 10 hrs. shifts spent standing, walking, bending, twisting, and lifting.
Availability at least three days per week
Ability to work night/morning shifts, weekend shifts, and holidays is required
A donation of $35 will be requested to help fund the internship program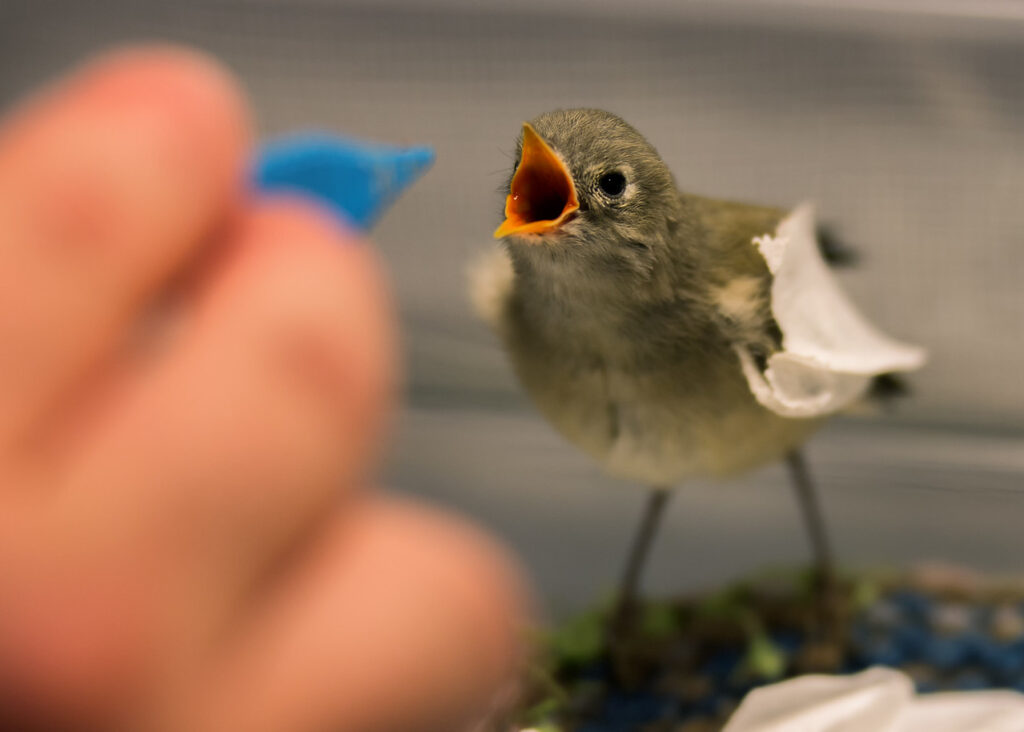 2023 Session Dates
— All sessions are open until filled —
12-week sessions
12W Spring #1 April 2-June 24 [OPEN]
12W Spring #2 April 9-July 1 [OPEN]
12W Summer #1 May 7-July 29 [CLOSED]
12W Summer #2 June 18-Sept 9 [OPEN]
12W Summer #3 June 25-Sept 16 [OPEN]
12W Fall July 23-Oct 14 [OPEN]
8-week sessions
8 W Spring #1 April 23-June 17 [OPEN]
8 W Spring #2 April 30-June 24 [OPEN]
8 W Spring #3 May 7-July 1 [OPEN]
8 W Summer #1 May 21-July 15 [CLOSED]
8 W Summer #2 June 4-July 29 [OPEN]
8 W Summer #3 June 25-Aug 19 [OPEN]
8 W Summer #4 July 2-Aug 26 [OPEN]
8 W Summer #5 July 16-Sept 9 [OPEN]
8 W Summer #6 July 30-Sept 23 [OPEN]
8 W Fall Aug 27-Oct 21 [OPEN]
Housing and Transportation
There is currently no on-site housing at Greenwood. You will be responsible for finding your own housing. However, we will certainly be available to make recommendations on housing in the area. You will also be responsible for arranging your own transportation to and from the center. Please be aware there is no public transportation directly to the center.
How to Apply
Thank you so much for your interest in our wildlife internship program!
To join our 2023 internship program, please fill out this online application. Should you be selected for an interview, our Volunteer Manager will contact you. We appreciate your interest in Greenwood Wildlife!
Application deadline: ALL sessions are open until filled.
Questions? Please contact our Volunteer Coordinator!