Volunteer at Greenwood
Since 1982, Greenwood Wildlife Rehabilitation Center has been dedicated to the rehabilitation and release of orphaned, injured, and sick wildlife. We rely on volunteers to help provide quality care to thousands of wild birds and mammals each year at our facility in north Longmont.
Most of our volunteers work directly with the wild animals, while others provide invaluable assistance with many other essential tasks. Below are the volunteer positions we have available.
Jump to…
Animal Care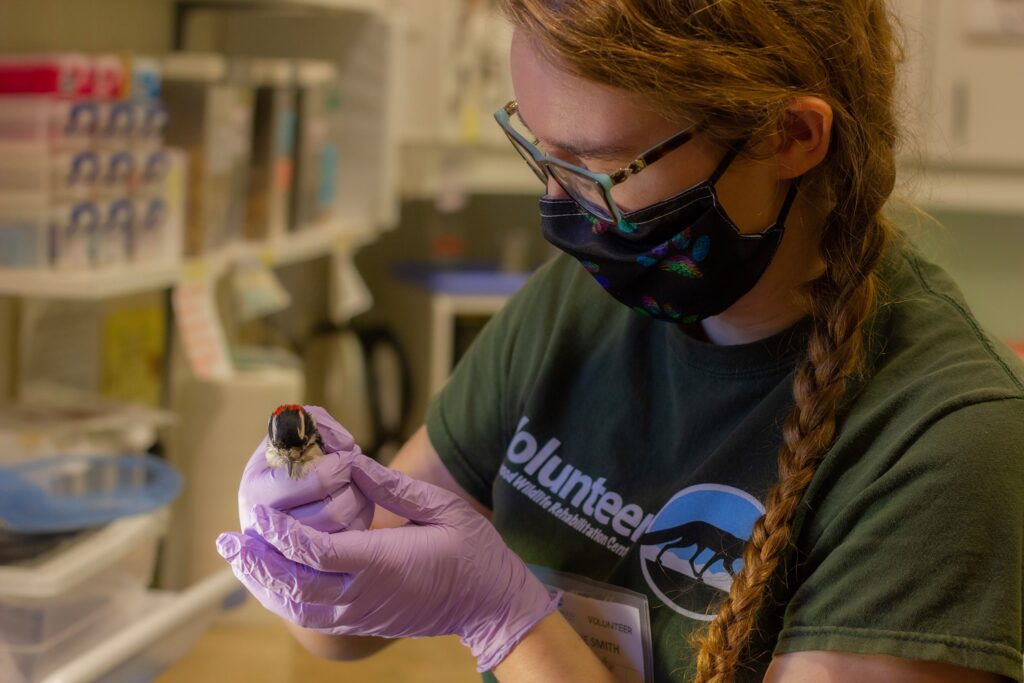 Animal care volunteers are responsible for feeding, cleaning, and general care of the wildlife admitted to Greenwood. Specific duties include food preparation, hand-feeding baby wildlife, cleaning cages, maintaining a clean environment, refreshing food and water in outdoor enclosures, and other duties as specified by staff supervisors. We require that Animal Care volunteers commit to one regular 5-hour shift per week for a long-term period (minimum of 6 months).
Transport & Release
Greenwood Wildlife is always looking for members of the community interested in helping their local wildlife by joining our volunteer Transport & Release team. Our Front Desk often receives calls from individuals unable to transport the wild animal(s) they rescued to our facility. Our Transport & Release volunteers play an essential role in safely bringing these patients (ex.: corvids, songbirds, small mammals, waterfowl) to our center in north Longmont for treatment. We also regularly need transport to release patients back into the wild or to occasionally pick up equipment and supplies when the need arises.
MICE Team
(Most Important Care & Enrichment Team)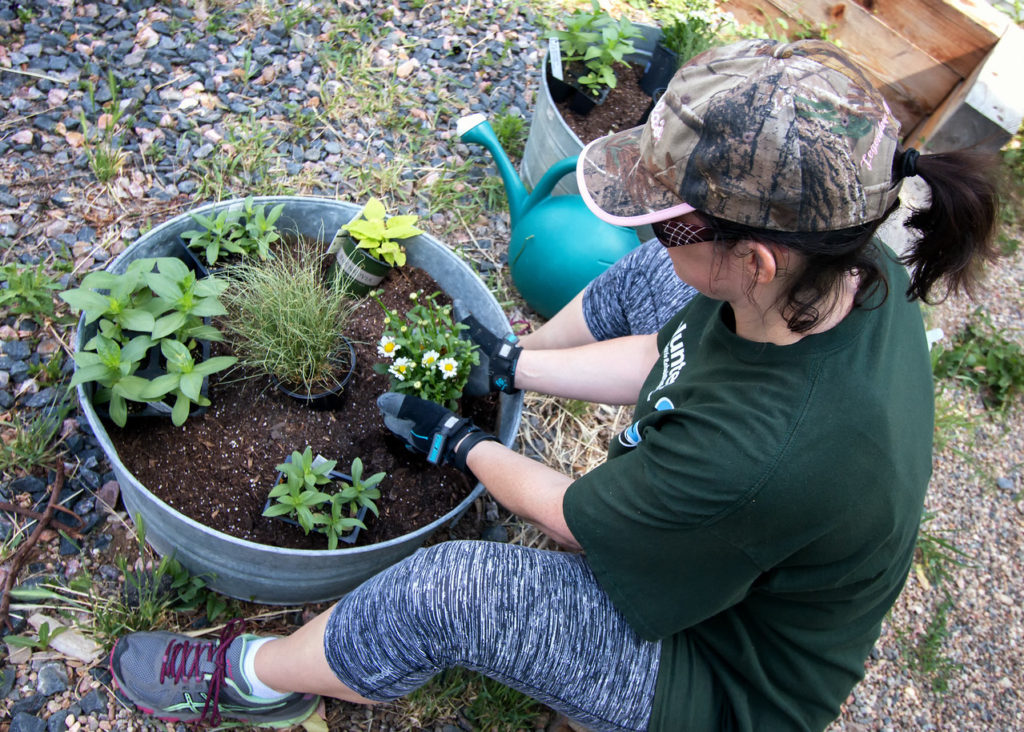 You cannot commit to the regular 5-hour shift per week in Animal Care and/or to the 6 months enrollment period? Our MICE team provides more flexibility for volunteers who want to donate their time to help the animals and the staff at Greenwood.
Community Service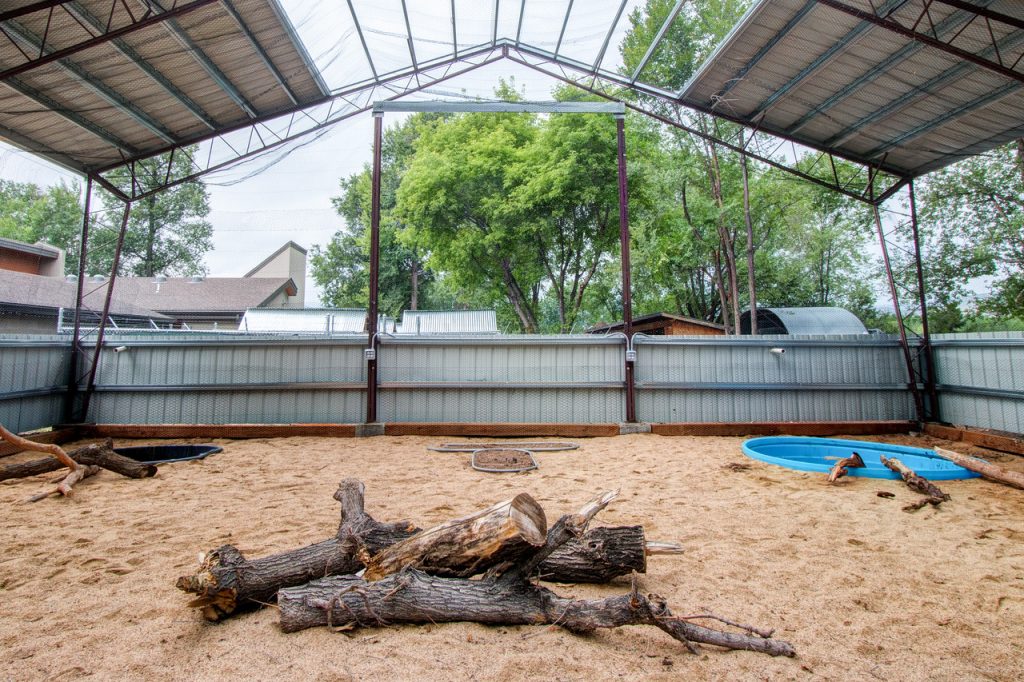 Greenwood Wildlife accepts individuals ages 18 and older who need to complete court-ordered community service. CLICK HERE to see if you are meeting our requirements and get more details. If you have any questions or would like to schedule your shifts, send an email to volunteers@greenwoodwildlife.org. Please note that the hours of service completed at Greenwood Wildlife will NOT involve contact with our wild patients.
Volunteer Groups
Greenwood Wildlife accepts groups of volunteers to do maintenance, gardening, and cleaning projects around the facility! Click to learn more!
Education & Outreach
Our Education & Outreach volunteers visit schools, events, and other organizations to teach ways to coexist with our wildlife neighbors and what to do in case you ever find yourself in a situation with a wild animal in need.
Fundraising – Special Events
As a Fundraising & Special Events volunteer, you will learn behind the scenes logistics of planning fundraising events and potentially volunteer at the events. It is a fun opportunity, and you're directly helping to raise funds for Greenwood and awareness of its mission.
How Kids Can Help
Kids–want to help wildlife too? Too young to volunteer at Greenwood? There are still plenty of ways you can help the animals!
Did you know…
The out-of-pocket expenses (ex.: gas, rabies pre-exposure vaccination) related to doing volunteer work for Greenwood Wildlife are tax-deductible! Talk to a CPA to find out how.
Diversity, Equity, and Inclusion
Greenwood Wildlife Rehabilitation Center does not and shall not discriminate on the basis of race, color, religion (creed), gender, gender expression, age, national origin (ancestry), disability, marital status, sexual orientation, or military status, in any of its activities or operations.