Animal Care volunteers are responsible for feeding, cleaning, and general care of the wildlife admitted to Greenwood. Specific duties include food preparation, hand feeding baby wildlife, cleaning cages, maintaining a clean environment, refreshing food and water in outdoor enclosures, and other duties as specified by staff supervisors. We require that Animal Care volunteers commit to one regular 5-hour shift per week for a long-term period (minimum of 6 months).
Baby Squirrel Seasons
Late March-May & Late August–October
Note: Our Squirrel Nursery is open for two seperate season: in the spring and again in th fall. Volunteers will mainly work with the large number of baby and adult Fox Squirrels we receive each year. Greenwood is also licensed for Rock Squirrels, Pine Squirrels, and other assorted ground squirrels – these species are cared for by staff or experienced volunteers/interns.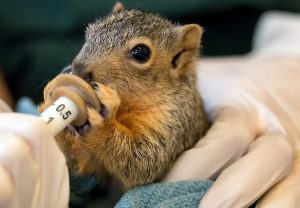 Baby Cottontail Rabbit Season – Coming 2024!
April-September
Our cottontail rabbit rehabilitation facility is a nursery uniquely open to staff, interns, or experienced volunteers. Volunteers must have completed one full season (spring or fall) feeding our baby squirrels before being considered experienced enough to join the Bunny nursery.
Baby Bird Season
May-September
Note: Greenwood sees more than 100 species of birds every year, including songbirds and corvids. Volunteers will mainly help care for songbirds, as corvids are exclusively fed by our staff or experienced volunteers/interns. Working in our bird department includes feeding baby birds in our indoor nurseries as well as caring for our older birds awaiting release in our outdoor enclosures.
Baby Raccoon Season
May-August
Note: Volunteers will bottle-feed babies, clean cages, and help with meal preparation and habitat enrichment in addition to laundry and other cleaning duties. This is a good opportunity for someone who is a hard-worker and doesn't mind getting their hands dirty – as our raccoon patients can be very messy! It is REQUIRED to provide proof of up-to-date rabies vaccination (series of 3 pre-exposure shots) and a current titer if applicable (required every two years). Please send us an email at volunteers@greenwoodwildlife.org if you have any questions.
Waterfowl Season
May-August
Note: Greenwood receives hundreds of orphaned ducks and geese of all types, as well as injured adults. The Center has specialized care areas for waterfowl, where volunteers help clean cages and prepare meals. This is a fun job that includes hosing out cages and refilling pools daily while being in the cage or room with the patients. A willingness to get wet is a must!
Requirements
Animal care volunteers need to be reliable in their commitment. We are a working wildlife hospital and expect animal care volunteers to show up for their shift as scheduled. Your presence is crucial in making sure the patients get the proper care. If your schedule is unpredictable or if you have situations in your life at the present moment that may cause you to be frequently absent, please consider volunteering in a different capacity and check out our M.I.C.E. team volunteer opportunity. '
Volunteering in our Animal Care department can be very demanding mentally and physically. It is primordial that all volunteers possess a good memory, attention to details, as well as the ability learn quickly and retain a lot of information. Most assignments also require the ability to perform basic math calculation and, at the exception of the Waterfowl and Outside Birds departments, to have very good hand dexterity/precision. If you have any work restriction(s) that Greenwood should know about, please mention it in your volunteer application form as well as by email to volunteers@greenwoodwildlife.org. We are also always happy to answer any questions you might have.
All applicants must:
Be 18 years of age or older to volunteer at Greenwood.
Be proficient in English and able to communicate clearly.
Provide proof of up-to-date tetanus vaccination (required).
Provide proof of pre-exposure rabies vaccination – optional (required to work with rabies vector species).
Volunteers must attend orientation and specific animal care classes and mentoring sessions before working directly with the animals.
Commit to one regular 5-hour shift per week (7am-12pm, 12pm-5pm, 5pm-11pm) for a period of 6 months or more.
Be able to spend 5 hours standing, walking, bending, twisting, and lifting.
Provide a $35 donation to help offset the cost of your volunteer shirt, nametag, PPE, and training materials. Replacement shirts are $10 each.
Have reliable transportation to the center.
Work in harmony with other volunteers, interns, and staff.

How to Apply
Recruitment for our 2023 season is now CLOSED. If you applied before the application process closed, please allow at least a week to receive your invitation to our volunteer orientation class.
The application process for our 2024 season will open in mid-February 2024. Please note that we do not keep a waitlist for those interested in joining us in 2024. You are encouraged to apply when our recruitment reopens. We appreciate your interest in Greenwood Wildlife!
Questions? Please contact our Volunteer & Outreach Manager!
Did you know…
The out-of-pocket expenses (ex.: gas, rabies pre-exposure vaccination) related to doing volunteer work for Greenwood Wildlife are tax-deductible! Talk to a CPA to find out how.
Diversity, Equity, and Inclusion
Greenwood Wildlife Rehabilitation Center does not and shall not discriminate on the basis of race, color, religion (creed), gender, gender expression, age, national origin (ancestry), disability, marital status, sexual orientation, or military status, in any of its activities or operations.