Support wildlife in need! By donating all, or a portion of your refund, you can help our mission of rehabilitating and releasing orphaned and injured wildlife back into their habitats.
ReFUND Colorado: Donate directly to our nonprofit
You can choose to donate directly to Greenwood with the Voluntary Contributions Schedule form in your tax documents. On line 17, write in our ID number, "20033002513" along with our full organization name, "Greenwood Wildlife Rehabilitation Center".
Your contributions to Greenwood help supply species-specific foods and medical supplies, which are vital for the healthy development of young wildlife and the rapid recuperation of adults from injuries and illness.
Tax Check-Off: Help local wildlife rehabilitation efforts across the state
You can also use the Voluntary Contributions Schedule to donate a portion of your refund to the "Colorado Nongame Conservation and Wildlife Restoration Cash Fund". Write in the amount you would like to give in the box to the right.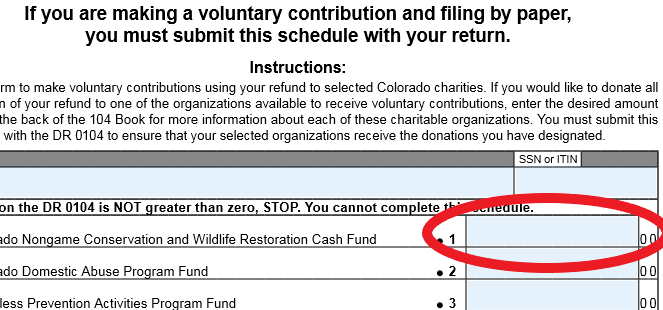 This fund supports wildlife rehabilitation and preservation of​ threatened and endangered species through Colorado Parks and Wildlife programs.
Since Greenwood is a well-established nonprofit with multiple funding sources, we have opted out of receiving these grants. As treasurer and committee member, our Executive Director Emeritus, Linda Tyler, plays a pivotal role in making decisions about the disbursement of these funds. We hope that by bringing attention to the simplicity of voluntary contributions to nongame wildlife, more grants will be made to these rehabilitators.
We hope you utilize one or both of these giving tools to help wildlife. THANK YOU!