NOTE: Our silent auction also has over 100 amazing items including restaurant gift cards, housewares, art, experiences, and more.

Hiking Tour to Visit Golden Eagle Nest
You and a friend will accompany intrepid hiker Dara Miles, a Golden Eagle monitor for the National Forest Service, to observe a Golden Eagle nest in Boulder Canyon. Once at the observation point, you'll view the birds through a scope. The chicks will steal your heart with their white downy heads and black eyes. You'll be in awe watching adults swoop into the nest with fresh prey for the babies. Hike needs to be scheduled in April, May, or June of 2019. The terrain may be a bit rugged, depending on which nest the Eagles settle on. Must be physically able to hike up a rough trail for up to 45 minutes with a small amount of scrambling involved. Might need to wear a helmet or hardhat as you might pass under cliffs where rock fall is a danger. Hike contingent on eagles nesting; they've returned to 1 of 3 spots in Boulder Canyon annually for the last several years.
Learn Chocolate-Making from a Master Chocolatier
Learn to make gourmet chocolates with Robin Autorino of the award-winning Robin Chocolates in Longmont. Class includes truffle making and ganache production, ends with wine and chocolate pairing. Everybody takes home an assortment of the scrumptious delicacies made in class. Class is for 6-10 people. Not available during December or early February. Expires 9/7/2019.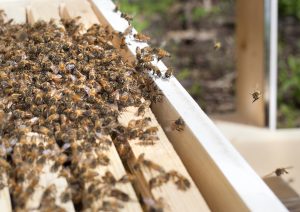 Behind-the-Scenes Beekeeping and Honey-Making Tour
Tour a working bee yard in Berthoud with Beth Conrey, president of the Colorado State Beekeepers Association and proprietor of Bee Squared Bee Products. You and up to 3 guests will work with bees while you learn about their fascinating world during this 3-hour tour of the 60 hive, chemical-free beekeeping operation. Bee Squared produces honey, hand-rolled beeswax candles and soaps, and you'll leave with a basket of these goodies. Protective gear will be provided. Expires 9/7/2019.
Birding Tour with Renowned Ornithologist & International Tour Guide Norm Lewis
You and up to five friends will go on an all-day birding tour with Norm Lewis of Aerie Adventures. Norm has been leading birding and nature tours for more than 20 years for a variety of organizations, including the Denver Museum of Nature & Science, Denver Field Ornithologists, Audubon, History Colorado, and many others. He particularly enjoys working with beginner to intermediates who would like to improve their birding skills and visit new localities. Those on the tour take their time to enjoy the birds and try to put them in context in terms of habitat, season, and behavior. Expires 9/7/2019.
Wine Cellar
Start a collection or complement your personal wine cellar with more than 20 bottles of wine donated by Greenwood Wildlife Board of Directors and Staff. None of these varieties are sold on the Front Range. Savor a bottle of Fleur de Roche, 2015 Malbec from FranceLeo, rated in the top 6% of all wines in the world. Also includes: Yapa Cardonnay 2015 Colchogua Valley Chile, Pavillon La Tourelle 2013 Bordeaux, Leonesse Cellars Zinfandel 2005, Ravenswood Pickberry 2005, Sonoma Mountain Tribute 2006, and many more!
Elegant 5-course Dinner for 8 at Boulder Cork
Relish this elegant meal prepared by Chef Jim Smailer. You and 7 friends can interact with this culinary artist who has shared his talent and passion for food at the Boulder Cork for more than 30 years. An avid traveler, gets inspiration from the places he visits from Italy to the Caribbean. He is a firm believer that the best ingredients should be allowed to speak for themselves, and his simple, elegant creations reflect just that. Collaborate with Chef Jim to design your own, unique menu for 8. Package includes wine, gratuity not included. Expires 9/7/2019.
Winter Weekend in Silverthorne
With 3 nights in a Silverthorne, Colorado condo, you'll have plenty of time to partake in all the winter activities Summit County has to offer. Close to shopping, restaurants, and Lake Dillon, the condo has incredible views and is a major wildlife corridor with frequent moose and fox sightings. Keystone and Breckenridge are just a quick drive away. This pet-friendly 3 bedroom condo sleeps up to 10 with a fold-out couch and has a private hot tub for relaxing after long days. Booking is based on availability and expires 4/30/2019.
St Julien Hotel, Vegan Weekend Package
Indulge in an extravagant weekend at the 4-star St Julien Hotel & Spa. Treat yourself to the ultimate in luxury in the heart of downtown Boulder right around the corner from Boulder Creek, the Farmers Market, top-class dining, shopping, unlimited outdoor activities, and more! Package includes a 2-night stay for 2 people, Very Vegan Spa Package (vegan body scrub with full-body and scalp massages), and a Vegan dinner for 2 at Jill's Restaurant. Expires 9/30/2019.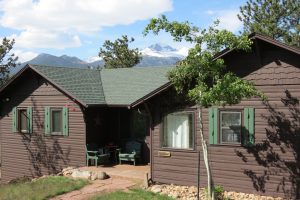 3 Nights at "Rocky Mountain High" Cabin in Estes Park
You'll enjoy breathtaking vistas from the porch of this 2 bedroom, 900-sq. ft. cabin across the street from the south entrance of Rocky Mountain National Park. It has a wood-burning fireplace and a fantastic view of Longs Peak along with the Continental Divide. Adjacent to the "Longs Peak Lookout" Cabin (see below). Available 10/15/18-5/15/2019. Excludes 11/17/18-11/25/18 and 12/22/18-1/2/2019.
3 Nights at "Longs Peak Lookout" Cabin in Estes Park
You'll see a daily parade of wildlife when you stay at this 3 bedroom cabin across the street from the south entrance of Rocky Mountain National Park. It has a wood-burning fireplace and a fantastic view of Longs Peak along with the Continental Divide. Adjacent to "Rocky Mountain High" Cabin (see above). Available 10/15/18-5/15/19. Excludes 11/17/18-11/25/18 and 12/22/18- 1/2/19.
A Year of Delectable Cuisine
A year of delectable dining at the best of Boulder and beyond will be yours with this collection of 12 $100 gift certificates to some of Boulder County's finest restaurants. Participating dineries include: 1914 House, Boulder ChopHouse & Tavern, Boulder Cork, Flagstaff House, Frasca, Gold Hill Inn, Greenbriar Inn, Mateo, North End at 4580, Proto's Pizzeria Napoletana, Sugarbeet, and The Kitchen. Some expire 9/2019; some don't expire.
Behind the Scenes at Greenwood Wildlife
Spend half a day fully immersed in all that Greenwood does to care for orphaned and injured animals. Go behind the scenes and experience what the life of a rehabilitator is really like. You can even attend the release of an animal back into the wild! You'll also meet and learn from Greenwood's photographer, Ken Forman, as he shoots images of the wildlife in our care and receive a souvenir photo of your visit. Release may not happen at the same time as the rehab experience. Schedule in advance. Expires 9/7/2019.
3 Night Summer & Winter Getaways in Edwards
Enjoy mountain activities with this 3-night stay in Edwards, CO in a 3-bedroom home on 1 acre backing up to open space. Located near fantastic recreational, dining, and shopping opportunities in Vail and Beaver Creek. Glenwood Springs is just a short drive, and it's an easy day trip to Steamboat Springs. Savor the outdoors, then come home to a relaxing soak in the saline hot tub. The living room has a 180-degree view, just like being outdoors. Sleeps 10 with foldout couch. Two packages available: one for summer, one for winter. Based on availability. Expires 9/7/2019.
Vacation in Maui across from World-renowned Beach
Life's a beach, especially when you spend a week in Maui in this 1 bedroom condo across from the Kamaole 111 Beach, rated one of the 10 best beaches in the world. Condo is located near the small town of Kihei on the west side of Maui, a half hour drive from the airport. It comes with a fully stocked kitchen and lovely lanai. This condo can sleep up to 4 with a fold-out queen couch, and is just steps away from the pool and tennis court. Some blackout dates apply, schedule in advance. Valid 4/1/2019- 12/1/2019.
Date Night Times 4!
Enjoy not just 1 date night out but 4 with this fabulous package! Includes a weekend in Estes Park at a Riverview Pines cabin, a night at the boutique Bradley Boulder Inn, a stay at the Curtis Hotel in downtown Denver, 2 tickets for "A Christmas Carol" at the Denver Center for the Performing Arts, 2 tickets to Wild Night 2019 and much more. Estes Park Package: cabin valid 10/1/18-6/14/19; includes $50 gift certificates to Estes Egg & I and Casa Grande. Boulder Package: Bradley Boulder Inn is adults only, valid through 2/28/19; includes $100 gift card to Big Red F Restaurants; $100 gift card to Downtown Boulder. Denver Package: 1 weekend night at the Curtis; $100 gift card at The Corner Office (both expire 9/19/19); 2 tickets to "A Christmas Carol" at DCPA valid 11/25-12/10/18, not valid Saturday night; $25 gift card at Sam's #3. Wild Night for Wildlife 2019: Date TBD. All based on availability.
Week in Akumal, Mexico
Imagine warm sand under your feet, a tropical drink in your hand, a refreshing ocean breeze, and more when you get away for a 1-week stay in Akumal, Mexico! Just 1 hour south of Cancun but hundreds of miles away in ambiance. Enjoy great beach-front restaurants, turtle walks, local shops, snorkeling, and scuba. Mayan ruins are just down the road in Tulum. This second floor condo on the beach has 2 bedrooms and 2 bathrooms. Excludes Christmas/New Year's; based on availability. Expires 9/7/2019.
Week in Exotic Belize
Cayo Landing is the perfect place for the adventurous. Located in western Belize, there's so much to experience: Mayan ruins, caving, tubing, bird-watching, zip-lining, horseback riding. Close to the Belize Zoo and San Ignacio Town.  Enjoy this rustic riverfront property featuring a cozy one-room studio cabin on stilts and a wrap around porch with serene views of the jungle. Schedule in advance, some blackout dates apply. Expires 9/7/2019.
Week in Historic Home in Beautiful Telluride
Relax during this 1-week stay at a lovingly renovated historic, private home in Telluride, located 1 block from the center of town, 1 block from the gondola, and half a block from the San Miguel River. Known for its spectacular scenery in the San Juan Mountains of Colorado, Telluride is the perfect destination for both summer and winter activities. Nestled in a box canyon surrounded by 13,000 foot peaks, it's filled with colorful legends. It offers an endless array of summer and winter activities, festivals, seasonal special events, and Rocky Mountain adventure. Sleeps four, not child-proofed. Some blackout dates apply. Expires 9/7/2019.
Beachside Home in Outer Banks
Enjoy a 1-week stay in a 4 bedroom beachside house on the Outer Banks of North Carolina. This area has the third largest estuary system in the world and features many wildlife refuges, maritime forests, and some of the highest sand dunes on the East Coast. Great seafood eateries abound nearby. Accessible elevator to all three levels of home. Short walk to the ocean. ONLY Available 9/8 – 9/15/19 OR 9/15 – 9/22/19. Expires 9/7/19.
A Week in Santa Cruz, California
Hang loose during a week-long vacation in a Santa Cruz beach house, just a short drive from the attractions of San Francisco. The ocean is steps away with two beaches across the street, and it's a quick walk to restaurants and the harbor. This 3 bedroom house sleeps up to 11, and includes a private backyard patio with bikes, surf boards, and more for your use. Schedule in advance, some blackout dates apply. Expires 10/31/2019.