Greenwood Wildlife Rehabilitation Center has designated Wednesday, June 17, as WILDLIFE WEDNESDAY 2015.
Please help us celebrate with a donation. We are asking each and every one of our supporters to give $10, $25, $50, $100 or more to purchase food and formula for the nearly 350 baby mammals and birds we currently have on site.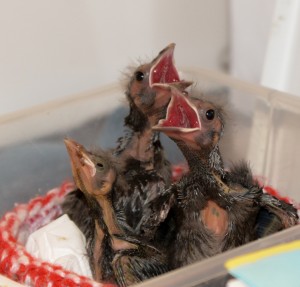 Our expenses for food average $32,000 per year. With Wild B.I.R.D. in Denver closed, we are the only rehabilitation center caring for waterfowl and songbirds north of Colorado Springs. We are receiving up to 100 calls per day. To date, we have treated 250 more animals than we had at this time in 2014, so we expect our food costs to be even higher this year. Our goal is to raise $5,000. 
Click here to make a secure, online donation. If you prefer to pay over the phone by credit card, you can reach us from 9 a.m. – 4 p.m. daily at 303-823-8455. You can also mail a check to: PO Box 18987, Boulder, CO, 80308. If you miss Wildlife Wednesday, we're happy to take your donation any other time.