Wildlife has a great way of warming hearts and sparking inspiration. If you have a creative knack we welcome you to create a design for one or more of a variety of merchandise products to fundraise for Greenwood! These items will help Greenwood raise money for the orphaned and injured animals that come to us. To get started, read simple guidelines for best practices when it comes to your design. We'd love to see your creations and wild animals will benefit!
Pick your canvas
We are partnering with a few organizations that fundraise with merchandise. PopSockets, which features a small circular accessory for the back of your cellphone. The size is approximately 1.5 inches by 1.5 inches. For example:
And online apparel sites like Bonfire and Redbubble, which allow us to upload a simple design for T-shirts, hoodies, tank tops, mugs, doggie tees, and more. For example: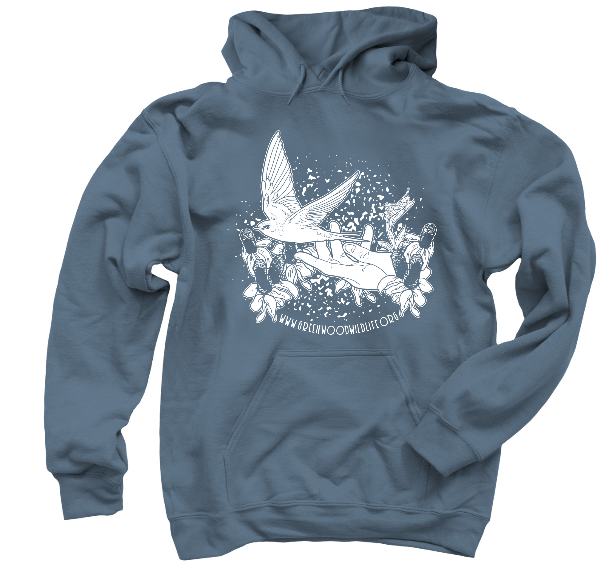 ---
Art guidelines for each type of merchandise
PopSockets
Apparel
Use as many colors as you want!
Stick to 2-3 colors per creation
Use an image or art created by you
Use a simple design
Limit the words you use – unless a
word is the entire composition
Feel free to use words – convey a
clear message!
How To Submit…
Upload your PopSocket design
In order to start fundraising for Greenwood using PopSockets, you have to upload your design to their website. It's only takes about 5 minutes. If your sketch or painting is on paper, the first step will be to scan your design and create a .JPG file. You can even use a scanning app on your phone!
Visit the Poptivism site to begin the uploading process. First you have to make an account.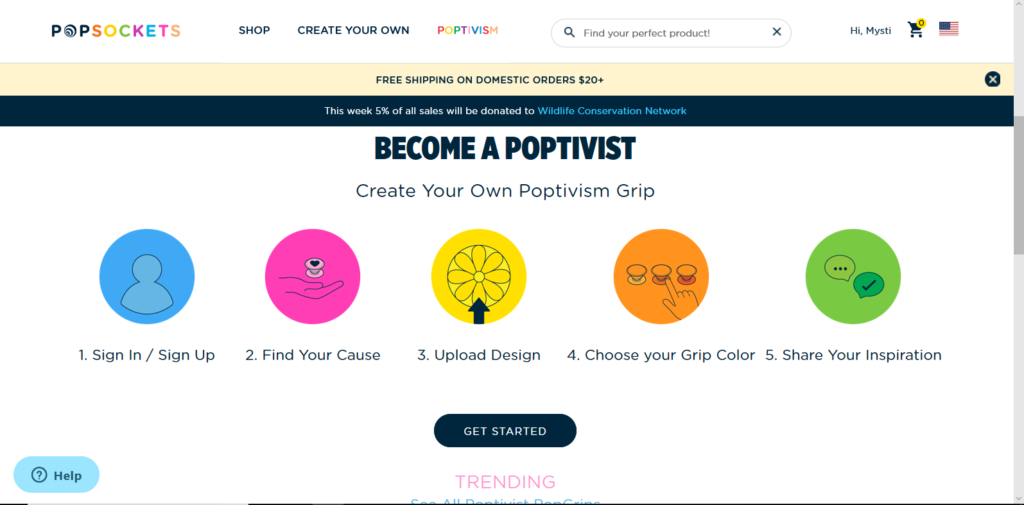 To make an account, click the "Get Started" button. Enter your email and name if you'd like and then click "Find Your Cause".
Simply type "Greenwood Wildlife Rehabilitation Center" in the search box then select.
Then, upload your .JPG or .PNG file by clicking "Add Photo".
Once your image is uploaded, click the PopSocket on the virtual phone to move your image around and place it where you want it. Click "next".
Add some final information that customers will see before they buy your PopSocket! Click "Submit"! Your PopSocket will start to accumulate funds for Greenwood Wildlife Rehabilitation Center. Half of each PopSocket purchased will benefit our wildlife!
Send us your apparel design
Use the art guidelines in the blue table above to create the best looking T-shirt on the market! For best results:
Make sure your upload or digital file isn't blurry or grainy.
Use photos that are your own.
Ensure you send a supported file type: .AI, .EPS, .PDF, .PNG or .JPG.
Make sure your file size isn't too large. (Max 10 MB)
Get a bit of inspiration for your shirt design by visiting the Bonfire store online or our latest style on Redbubble.
Once your masterpiece is complete, send us your final version along with your signed copyright agreement to mysti@greenwoodwildlife.org
---
Thank you for all your hard work to keep the magnificent wildlife of Colorado happy and healthy! Like these cuties: