Executive Director: Amanda Lau
Amanda came to Colorado in 2009 to pursue a graduate degree in Ecology and Evolutionary Biology at CU Boulder. Her research focused on predator-prey relationships as well as ecological issues concerning several Colorado species, including prairie dogs, black-footed ferrets, and a variety of native bats. She also excelled in teaching science curricula to undergraduates and local school children. After receiving her master's degree, she joined the development team at the Humane Society of Boulder Valley. Her practical background in fundraising, operations, and project management and her academic background in ecology and wildlife biology make her a great addition to the Greenwood team. Amanda enjoys hiking, camping, spending time with her family, and board games.
Operations and Program Manager: Claudia Laprise
Born and raised in Quebec, Canada, Claudia left her hometown to travel the world and learn new languages at a young age. Her studies in International Relations and Disaster Management led her to work for several non-profits including the CECI Montreal, UNICEF Quebec and the Canadian Red Cross. Shortly after volunteering at the Montreal SPCA Emergency Shelter, she decided to reorient her career towards animal protection and began to work for the World Animal Protection in Thailand and the Philippines. Since then, she completed a certificate program in Animal Welfare at the Thompson Rivers University and was privileged to work at the Humane Society of Boulder Valley (HSBV) as their Adoption Services Supervisor. Claudia joined Greenwood Wildlife Rehabilitation Center in May 2018 as the Volunteer and Outreach Manager and was promoted to Operations and Program Manager in January 2022.
Veterinarian: Alison Hazel
Dr. Alison Hazel has been involved in avian, exotic and wildlife medicine for over 20 years. She received her degree in Veterinary Medicine from Cornell University, where she concentrated in small animal, avian/exotic medicine. She was a co-supervisor of the Avian Clinic and worked with local wildlife rehabilitators while she was a veterinary student. Her externship during school was at the University of Minnesota Raptor Center helping to provide veterinary care to a wide range of raptors and other large avian species. After veterinary school, Dr. Hazel became the co-owner of Liverpool Animal Health Center, near Syracuse, New York, practicing small animal avian/exotic medicine and providing local rehabilitators with veterinary services. In 2005, Dr. Hazel relocated to Colorado where she works as a relief veterinarian and can be found at many practices in the Denver Metro area. She is also the veterinarian for Greenwood Wildlife Rehabilitation Center in Longmont, which cares for over 1,800 birds a year, and over 200 different Colorado wildlife species. Dr. Hazel is a member of the Colorado Veterinary Medical Association, the Association of Avian Veterinarians, and the Association of Wildlife Veterinarians.
Animal Care Supervisor: Amanda Manoa
Amanda's experience spans the globe. She's interned at Dolphin Quest in Hawaii where she trained Bottlenose Dolphins and Southern Brown Stingrays, took care of Hawaiian Green Sea Turtles along with various tropical fish and invertebrates, and taught education programs to human animals of all ages. She also spent time at the Odense Zoo in Denmark where she worked with all of the animals in the collection, her favorites being the manatees and penguins. Back on the Front Range, Amanda interned at the Denver Downtown Aquarium, volunteered at the Humane Society of Boulder Valley for seven years, volunteered for four years at the Miracles Therapeutic Riding Center, and trained a service dog for two years. She attended Pikes Peak Community College in Colorado Springs where she studied Zoo Keeping Technology.
Amanda started as an intern at Greenwood in 2010, became licensed for birds and mammals in 2013, and was promoted to Animal Care Supervisor in 2022.
Community Relations Coordinator: Mysti Tatro
Mysti is an animal ally with an immense love for wildlife and the environment. She pursued a degree in Human Dimensions of Natural Resources at Colorado State University. Throughout college, she worked for the City of Fort Collins and went on to work for Colorado Parks and Wildlife where she focused on diversity and inclusion efforts within the conservation field. Now she works as the Community Relations Coordinator for Greenwood, with the goal of curating positive changes in her community.
She also enjoys camping, hiking, photography, friends, and art.
Volunteer & Development Coordinator: Krystle Smith
For the last 5 1/2 years, Krystle has worked as a Wildlife Interpreter/Trainer at the Willowbrook Wildlife Center in Glen Ellyn, IL. She spent time as a veterinary assistant, ranger, volunteer keeper, and animal care intern before that. She has a bachelor's degree in biology and is greatly interested in animal behavior and welfare.
Krystle and her husband moved to Lakewood, CO from Batavia, IL with their 3 cats. She loves to hike and get out on their motorcycle on her days off. She looks forward to working in a different capacity helping wildlife at Greenwood!
Education & Front Desk Coordinator: Alie Moreno
Alie joined Greenwood in 2016 as Education Volunteer and Animal Care Liaison. Promoted to Front Desk Supervisor in 2017, Alie took a step back from her role to care for her family over the pandemic. 2023 is the year Alie returns to Greenwood; she is excited to take on the role of Education and Front Desk Coordinator and to share her passions for Colorado's wildlife, education, and people. At Metro State College of Denver, Alie pursued a degree in Chicano studies with a minor in elementary education. While her sons were growing up, Alie worked for Denver Public Schools as a library pro-tech responsible for a thriving library program for a bilingual student population of more than 600 elementary-age students. At Greenwood, she looks forward to facilitating communications between the diverse groups of people moving through the center at any given moment; the public, volunteers, interns, staff, and outside partners. Because wildlife rehabilitation is such a limited and valuable resource, continuing to build a dynamic, age-inclusive, community-based, and serving education program is a challenge Alie looks forward to undertaking.
Mammal Care & Facility Coordinator: Tessa Parrish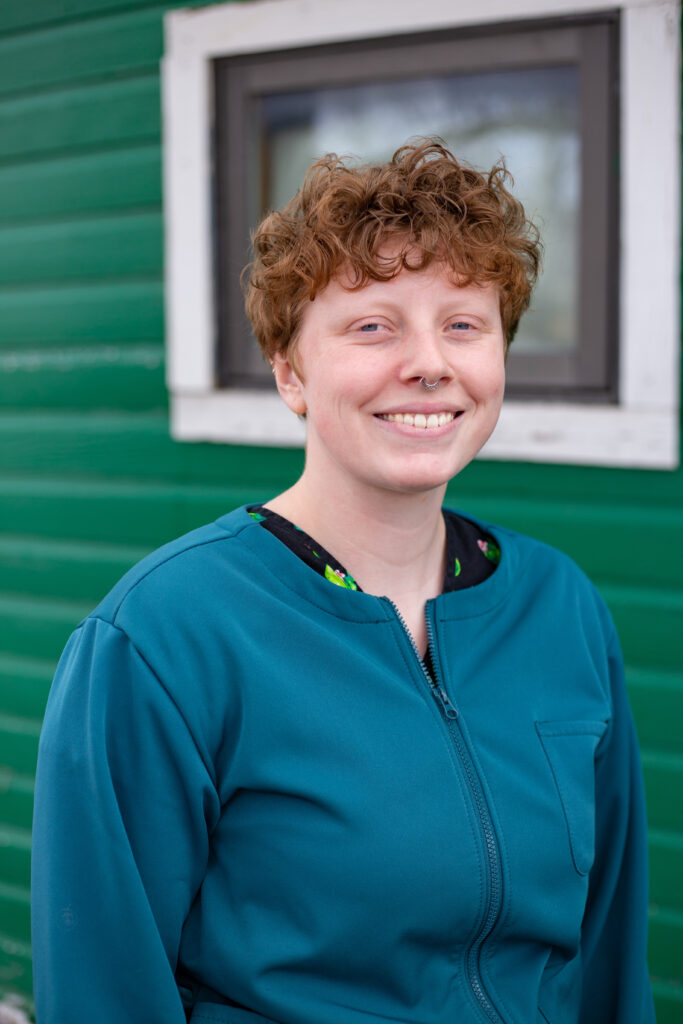 Tessa was born and raised in Ithaca, New York, where she grew up surrounded by pets. She graduated from Colorado State University with a degree in Zoology in 2019. While in school, Tessa interned with the primate and small mammal department at the Rosamond Gifford Zoo and spent five months in Tanzania studying wildlife management and human-wildlife conflict. In 2018, Tessa completed an internship at Greenwood, followed by two seasons as Mammal Nursery Staff. After a brief return to New York, where she worked as an Animal Care Technician at Cornell University, Tessa is excited to provide compassionate care to Colorado wildlife once again.
Animal Care Technician: Bob Nightwalker
Bob is a Colorado native, but spent some time in California where he interned at several notable facilities, including the Santa Barbara Zoo, the Los Angeles Zoo & Botanical Gardens, Jerry Thompson's Wildlife Rehabilitation Center, and the Gibbon Conservation Center. He moved back to Colorado in 1992 and worked for the Cheyenne Mountain Zoo in Colorado Springs. Bob also worked as a Licensed Wildlife Rehabilitator at WildKind in Fort Collins for 12 years before coming to Greenwood in January of 2013.
Bob is a veteran of the United States Marine Corps and attended Moorpark College's Exotic Animal Training and Management Program in California where he earned an associate's degree in Science.
Administrative Specialist: Andrea Ferguson
Andrea was raised in Boulder County. She started at the Humane Society of Boulder Valley (HSBV) in 2006 and fell in love with the world of animal welfare. After a stint in Texas, she returned to Colorado and employment at HSBV. She spent nearly the last 10 years there working in both direct animal care and administration. Andrea loves hippos and enjoys spending time with her son and gardening. She joined Greenwood in February of 2022.
Communications & Content Associate: Kaite Fletcher
Kaite is a science educator and environmental journalist who enjoys constantly learning about the dynamics and intricacies of the natural world. Despite a degree in Environmental Science and Journalism, Kaite launched her career as a Middle School Science Teacher in Colorado. After 4 years as a teacher, Kaite was ready to step back into science communication within the media. Her main goal is to help bridge the gap between scientists and the general public. Kaite started at Greenwood in June 2022.
Kaite's dream is to travel the country in her vintage trailer to explore all the wild places of the U.S. Mountain hikes, ocean soaks and furry dogs are her favorite pastimes.
Administrative Assistant: Amy Cervene
Amy has a diverse background in libraries, training, emergency preparedness and response, and animal welfare. An avid birder, she volunteers with Colorado Parks and Wildlife's Colorado Birding Trail project and helps with National Audubon Society Christmas Bird Counts each year. She also volunteers at a farm sanctuary, is a Red Rover Responder, and a member of her local Community Emergency Response Team. Amy worked at Greenwood for two summers on the front desk and volunteered caring for squirrels before starting her position as Administrative Assistant.
Greenwood Wildlife Thrift Shop & Consignment Gallery Staff
Retail Manager/Director of Sales & Promotions: Diane McCarthy
What lured Diane to Greenwood Consignment Gallery and Thrift Shop? She has a love for the unique, retro and simply irresistible! After raising four daughters, this begins a new chapter of excitement in her life. Her advertising, sales and marketing backgrounds provide her with a chance to help customers locate these fabulous stores and to create exciting promotions to keep them coming back. "Our goal at Greenwood is to help consignors and customers find another home for preowned furniture, decor and jewelry…giving everything a second chance. It's a lot of fun and supports such a great cause – and who doesn't want to help rehabilitate orphaned and injured wildlife!"
Retail Sales Associate/Social Media Coordinator: Tamara Hampikian
Tammy Hampikian spent 26 years as an Electrical Engineer. A military move overseas with her husband broke her heart after seeing countless homeless animals living in the streets. She volunteered with the nonprofit AWL (Animals Without Limits) for a year, after which she continued to rescue street dogs on her own, paying for the cost of feeding, sterilizing, vaccinating, microchipping and transporting herself. She homed 85 dogs, driving and flying them across borders to deliver them to their carefully selected homes, many of which she maintains contact with. After returning (with 5 dogs), her husband retired and came to Boulder to attend the University of Colorado to pursue a second degree. Tammy began volunteering at the Greenwood Consignment Gallery in 2014, and shortly after was hired as a permanent employee.